Did you put a frothy out for Santa this Christmas? A couple of mince tarts? A plop of sherry?
If you answered 'yes' to any of the above then you really ought to be ashamed of yourself. Medical professionals are claiming that jolly old Father Christmas is likely to be suffering from a bevy of physical and mental health issues, and could well be headed for an early grave.
Professor Helen Stokes-Lampard, chairwoman of the Royal College of GPs, claims that Santa's radical lifestyle and dietary habits over the past however-many years would most certainly put him at risk of developing various debilitating health conditions.
"He's overweight," she told the Press Association. "And all of us do our bit to add to his obesity by leaving mince pies and cookies for him and milk or alcohol.
"He may have gout, he may have alcoholism – there's a real bit of binge drinking going on… There are also issues with sleep deprivation, work stress, [and] his mental health."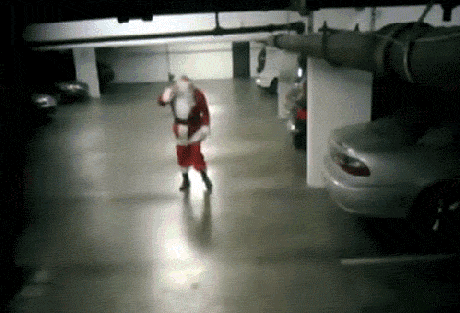 It's a veritable cocktail of not-so-merry maladies, and Professor Stokes-Lampard's conclusion is grim: "Santa is almost certainly living with multiple morbidities which, if left untreated, can become increasingly distressing and debilitating."
Her advice? "He could probably do more to encourage healthy lifestyles – something youngsters and adults alike can benefit from… I would be encouraging him to adopt a vastly healthier diet and take more exercise in the new year."
Now let's assume for a second that this whole *medical diagnosis* is bullshit given that Santa Claus the Man does not, in fact, exist. Well, then we should ask ourselves: who's drinking the warm glasses of Crown Lager? Who's eating the mince tarts? Who's depriving themselves of sleep, enduring stress at work and probably living with "multiple morbidities" in order to deliver a Merry Christmas to you selfish little ingrates?
The fact is, it's probably your Dad. And these cute little Christmas traditions are probably killing him. Just think about that for a second.
_________
Source: The Telegraph
Feature image: GQ
_________
If you have a story that you'd like to share, please submit it here.