Love isn't just someone you grow old with: it's someone you get blind with. It's someone that'll hold back your hair and find you a fresh shirt; someone that'll slip you an upper when you're on the downward slope.
Love is someone who'll stand by you for the rest of your sorry life and help you rage, rage against the dying of the light.
And as far as ragers go, Ruth and Robert Fergus – aged 69 and 72, respectively – put some of the loosest millennial munters to shame. This old Scottish couple faced charges to the tune of $6,700 AUD after getting right fuckeyed and going on an "out of control" rampage through the hotel where they were staying.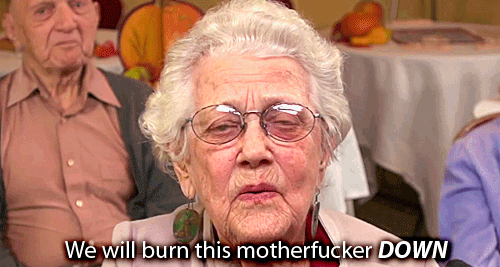 The details, predictably, are somewhat murky. But it all seems to have kicked off at around 2 in the morning, when Rob, demonstrably lit, started banging aggressively on a random guest's door. The guest reported the abuse to reception, and Rob staggered off to bed – but was woken soon thereafter by dear wife Ruth, also lit, who complained about experiencing hostility from hotel staff.
Old Rob wasn't having any of that, it seems, and proceeded to sprint naked into the public reception area of the hotel, brandishing a pair of scissors and threatening to "slit" and "kill" innocent bystanders. Mrs Fergus, meanwhile, told a staff member: "I'm going to get a gun and shoot you," which… well, you can't say that.
Staff and guests were subsequently forced to flee the hotel, fearing for their lives, while Rob smashed in a glass door pane and used the aforementioned scissors to cut some communication cables.
"He consumed much more alcohol than was sensible," Rob's solicitor Ewan Cameron later admitted – and you can just hear him yanking his necktie as he says it, sweat beading on his clammy little forehead. "He reacted disproportionately by going to reception to confront them."
Solicitor Pauline Cullerton, for Ruth, defended her client's alcohol-fuelled frenzy with the classic excuse that she hadn't had much to eat that day.
Sheriff Gillian Wade, meanwhile, did absolutely nothing to allay Mr Fergus's post-drinking anxiety.
"I don't think I need to tell you it's a very sorry state of affairs," Wade told him. "I have no doubt you will regret it for the rest of your life."
_________
Source: BBC News
Feature image: Fifty Plus Life
_________
If you have a story that you'd like to share, please submit it here.